And it's mainly do to the fact that three of their front seven all decided to call it quits.
On Monday, 14-year veteran defensive lineman Justin Smith announced his retirement through the team's website.
#49ers DT Justin Smith, a five-time Pro Bowler, will retire from the NFL. #FarewellCowboy http://t.co/Y7D24Bao6d pic.twitter.com/vpiTo3skCz

— San Francisco 49ers (@49ers) May 18, 2015
Smith joined linebacker Patrick Willis (20.5 sacks in 7.5 seasons) and 24-year-old linebacker Chris Borland in deciding to hang up their pads this offseason. Add to that the losses of Perish Cox and Chris Culliver in free agency, and you'r talking about half of the defense right there needing to be replaced.
And though he was on the other side of the ball, Frank Gore needs to be included here as well. He, Smith, and Willis, according to the 49ers' website, are the only three Niners in team history to win the Bill Walsh award, which is given to the team's Most Valuable Player—must be a newish award considering some of the names that have gone through this town.
More from the team's statement:
After being selected as the fourth overall pick by the Cincinnati Bengals in the 2001 NFL Draft, Smith went on to play 14 seasons in the National Football League. When he became an unrestricted free agent in 2008, San Francisco swooped in and landed one of the top free agents on the market. A year later, Smith enjoyed the first Pro Bowl season of his career, which sparked a five-year stint of representing the 49ers on the all-star roster. …

During his career, Smith started 217 of 221 games played, including a streak of 185 consecutive starts from his rookie season through December of 2012. He finished his career with 1,370 tackles, 87.0 sacks, 16 forced fumbles, 10 fumble recoveries, three interceptions and 30 passes defensed.  Smith posted at least 5.0 sacks in 12 of his 14 seasons played and is one of 13 players, since sacks became an official statistic in 1982, to register 5.0-or-more sacks in 12-or-more seasons. With 6.5 sacks during the 2013 regular season, Smith became just the 20th player in NFL history to register at least 5.0 sacks in 11 separate seasons. He also posted at least 6.0 sacks in four consecutive seasons (2008-11), becoming just the third player in 49ers history to do so.
So what exactly is San Fran losing here, not just in Justin Smith, but in everything combined. Let's have a looksie:
228 of their 735 tackles were produced by the five defensive names listed above (31 percent), including their leading tackler in Borland—and Willis's 29 tackles came in just six games thanks to a season/career-ending toe injury;
6 of their 35 sacks (just under 20 percent);
and 12 of their 23 interceptions (52 percent), including their leading (Cox, 5) and second-leading (Culliver, 4) pick men on the team.
Further, Cox and Culliver were the team's leading pass defenders with 18 and 15 respectively—both in the top 15 in the league in 2014; and Smith and Willis were just names that any offensive player dreaded lining up against.
The Niners have been in a "decline" ever since their Super Bowl appearance after the 2012 season, but it's mainly been due to the lack of offensive stability. The defense has been the one constant that Niners fans could always count on—they've been ranked in the top-five in total defense every year for the last four years. But now, entering 2015, they're going to be a major question mark.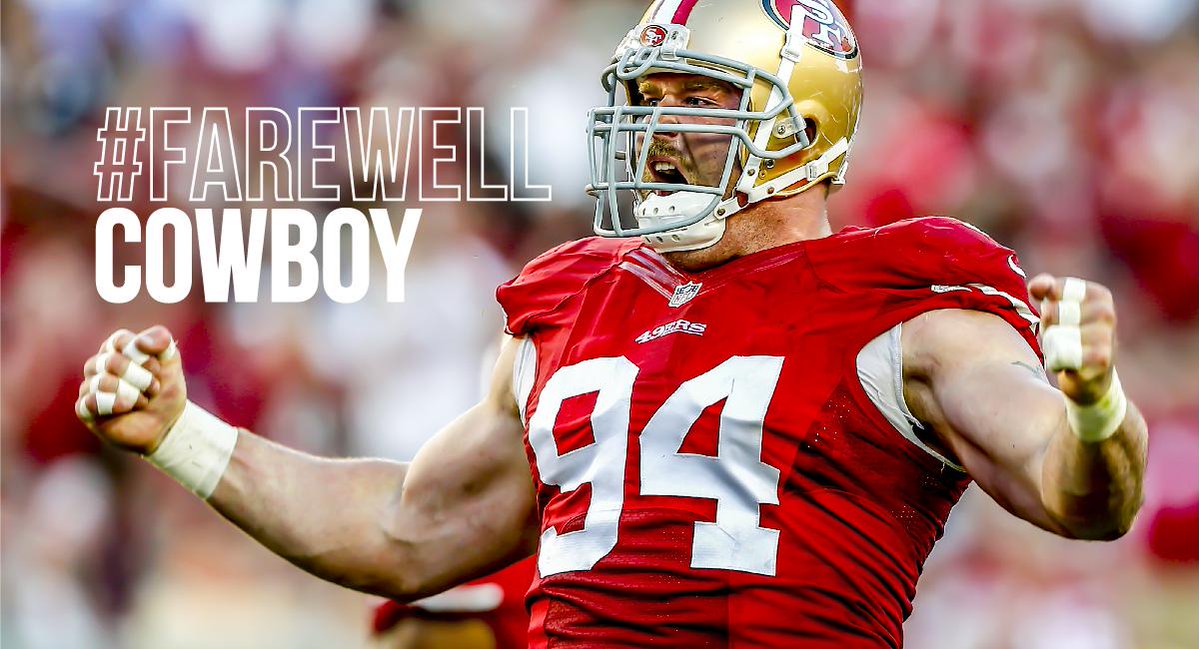 Photo source: Twitter (@49ers)